The Photography Tutorial eBook
The most in-depth eBook on how to capture amazing photography anywhere!
Day or Night, How to Capture the Perfect Light in Any Situation

Have you ever been frustrated that your photos don't do justice to the scene you observed? I know I was for a long time with my own photography work. As I started out as a landscape photographer I was also attracted to photographing cityscapes at night but it took me many years of trial, error, and studying to learn the camera settings and post-processing techniques necessary to where I was proud of my results.
As editor of one of the largest photography blogs I was shocked that I couldn't find a training course that covered all these concepts. So after many years of research and readers asking for help in these areas, I started formulating this training eBook. It is the product of over a decade of adventures and misadventures in the photography industry as a landscape photographer. Assembled to help you learn quickly and avoid the mistakes that I made along the way.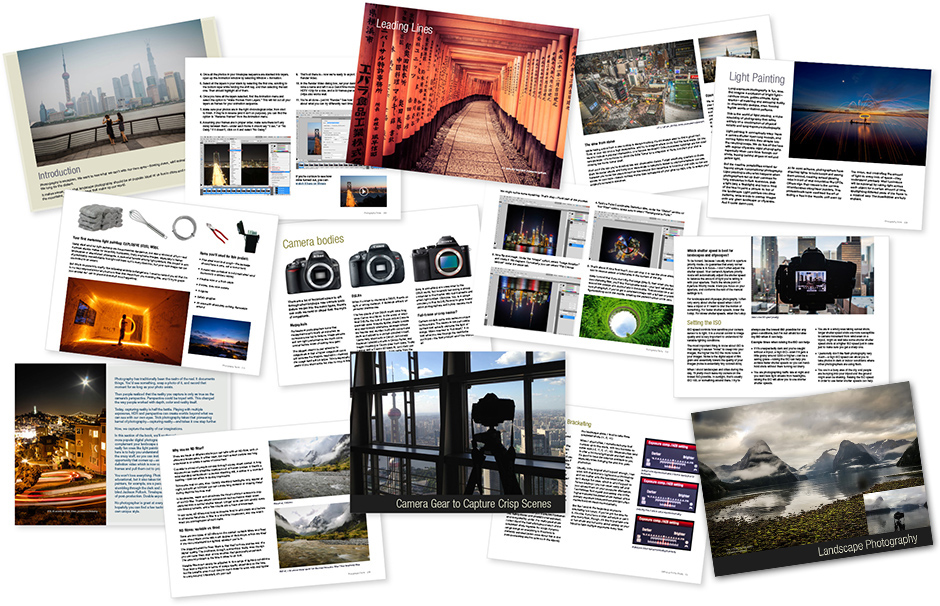 This relentlessly in-depth eBook is designed to help you master challenging lighting conditions no matter your experience level, take more compelling photos, post-process them to perfection, and delve even further into long exposure tricks so you know all the possibilities. By knowing all the techniques possible, it is my hope that you will learn a lot faster than I did and start seeing hidden photo opportunities that others might miss.
This is a fantastic book for anyone who wants to expand their photographic horizons! Even if you're just getting started in photography, this book will help you tackle every challenge. It covers such a wide range of information, from what gear is most useful, key tips on what settings to use, lighting and composition techniques, and absolutely tons of practical advice that will help you while out shooting. While these genres of photography can seem overwhelming, this book has everything you need to get out there and capture stunning photos of your adventures!

-Rob Lim
PhotographyConcentrate
All Aspects of Landscape Photography Covered
Learn the optimal settings to ensure sharp crisp shots. How to take multiple exposures to ensure you capture all the available light in the scene. Includes gear recommendations but any camera will do.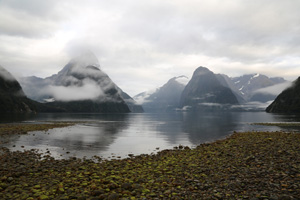 How to compose your photo for maximum viewer interest. Learn how to take into consideration perspective, framing, leading lines, the rule of thirds, reflections, horizon line placement, color, patterns, shadows, depth of field, and more.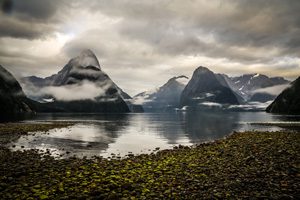 Then learn how to bring out the best of your shots with quick and efficient post-processing techniques. Tutorials on how to edit your photos to perfection. The results will leave you stunned.
How to Setup Your Camera to Capture Crisp Dynamic Cityscapes
Be confident you are capturing the full potential of any scene in front of you!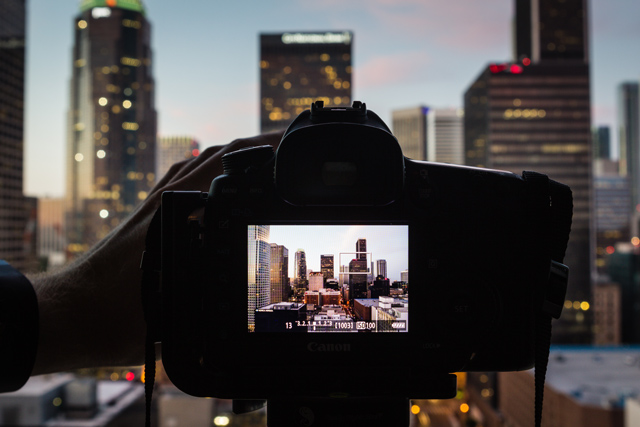 After some essentials, we later delve into Advanced Photography Trick Tutorials! For mind-blowing results bound only by the limits of your imagination...
Once you are comfortable capturing all the light in a scene. We will show you how to harness light to your will! Photography tricks and long exposure techniques are very fun and also serve as critical learning exercises. From light painting in your landscapes to star trails in your skies, we will show you how to take the kind of photo that stops viewers in their tracks.
Extensive tutorials on light painting, panoramas, spherical panoramas, night sky exposures, infrared, fisheye, bokeh, timelapse and more. You will be taking steel wool light painting shots and star trail exposures in no time.
With all the techniques and shortcuts this eBook contains, you will avoid a lot of the frustrating trial and error I had to go through over the years. It is designed to help you quickly become more knowledgeable and better prepared the next time you venture out with your camera. >>OK, I'm ready to start the book!
"This is the most detailed book on digital landscape photography I have ever come across. I can't believe how many valuable techniques and tutorials you managed to fit in there. Wonderful layout as well. This eBook is a must for any experience level!"
Daniella Craig, United States
"Learning how to take multiple exposures and blend their best attributes is the holy grail of photography in the digital age. I very much appreciated your tutorials on that subject in the post-processing section of the book, thanks so much for this resource."
Dan Hedgpeth, United Kingdom
Topics Covered, Table of Contents: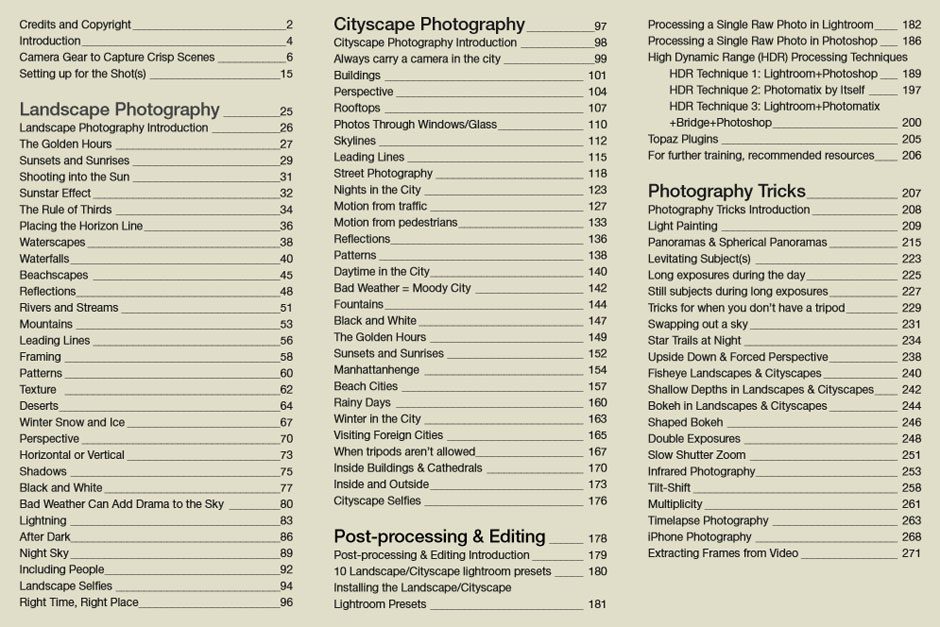 In-Depth Help Through the Whole Photography Process:
How to capture sharp, well-composed photos and all the light in a scene using optimal camera settings, occasionally filters, and multiple exposures.
Post-Processing and Editing
We will walk you through how to use the most effective software and the most effective techniques to blend exposures to bring your photos to life.
As you get into the digital darkroom, you will find that endless time can be spent there. We have included 1-click presets for instant amazing results when time is tight.
Gear Recommendations, But Any Basic Camera Will Still Work
In this section, we'll cover some of the main gear expectations most landscape/cityscape photographers deal with. Don't feel obligated to buy any of it, especially all at once; your gear will be an ever-evolving stream of equipment that you'll buy, sell and upgrade over years and years. But it's important to know what's out there.

If you're going to specialize in landscape or cityscape photography, a full frame camera is a great investment. We will explain why and what features and accessories are important to these types of photography.
A photographer shouldn't be inhibited by their equipment though. I'll use a DSLR with a good sensor when I can, obviously, but if there's a gorgeous, spontaneous photo op and all I have is my iPhone, I won't hesitate to capture the moment.
I wanted to learn how to take photos of all the lights in Times Square NY, and this eBook was the perfect teacher! I took it with me on my iPad and snapped photos at all hours of the day in that crazy intersection. The tutorials on editing and the included lightroom presets have been invaluable as well. I'm addicted to night cityscape photography now!

-Jennifer Baker, United States
How to Take Eye-Catching Landscape Photography
Landscape art is as old as art itself. Cave drawings, Chinese murals and Minoan Greek frescoes are all ways of portraying the world around the artist. That so many cultures across so many eons have portrayed Earth in different ways tells us that fundamentals definitely exist. Some photos may look spontaneous and lucky—a streak of lightning, a fish leaping up out of a river—but this game has rules, and if you know the rules, you can take as good a shot as anyone. You don't need fancy technology.
>>YES, I'm ready for the Landscape tutorials!
"I just sent you one of my photos! The photography tricks section is amazing, the images I have been creating with these tutorials have been a big hit with my friends on social media and are now some of the most popular in my portfolio. I wasn't sure at first but now I'm certain, this eBook is the best photography investment I have made so far!"
"This is now the top book on my iPad, I already read it cover to cover but I keep it open a lot still when I'm riding the train between locations or when I'm at home post-processing. I've been adding new photos to my portfolio almost daily with your help, I only wish I had found this book earlier."
How to Capture Cityscapes from Any Angle, Especially at Night
Good cityscape photography makes the viewer feel both things: awe and terror. It should make them feel exhilarated at the endless possibilities tucked into every corner of downtown Tokyo, but also petrified at the enormity of Shanghai's systemic twisting roads. From an aerial view we can spot all the boats in Toronto's harbor, the landmarks of New York's skyline, and the signature rivers coursing through London, Seoul and Paris.
Shooting cityscapes isn't all that different from shooting landscapes. The same general rules apply: skyscrapers are mountains, roads are rivers and dramatic clouds make them look that much cooler.
The biggest difference is that cities change at night. A mountain is a mountain any time of day, but by night, a building transforms into a blaze of lights to challenge the stars, roads light up with moving dots of red and yellow, neon lights line the streets in attempts to catch your eye.
Visually, cities come alive at night.
Long Shutter Speed Tips & Techniques
All other settings constant (f/13, ISO 400) shooting in aperture priority, watch the effect of shutter speed length on traffic moving across a bridge as it gets darker in the evening:
Moving traffic is like a city's bloodstream—it's always moving, pulsating through veiny streets, bringing images to life. Capturing traffic in a city is almost inevitable, and while it's hard to shoot it "wrong" by simply taking a long-exposure shot of any length, it can also be hard to control the exact shot you want.
For Within the City, An Extensive Chapter on Street Photography
Telling a story with people in it is a surefire way to increase human interest. Like I mentioned in the "Including People" chapter of the Landscapes section of this book, people love seeing people: it creates a sense of empathy, realism and perspective that pure cityscapes lack, and satiates viewers' inherent curiosity about the lives of others.

While the same rules of artistic composition apply (rule of thirds, leading lines, and so on), you're unlikely to have the time to set them up: street photographers move quickly, quietly and rarely have time for a second shot.
When it comes to intersections, some bigger cities—New York, Tokyo, Toronto—will have four-way crosswalks, where pedestrians stream across in all directions, stopping cars on all four sides of the intersection. These make especially great hectic shots, with cloudy masses surrounded by headlights and condo lights. >>YES, I'm ready for the Cityscape tutorials!
Then Supercharge Your Post-Processing & Photo Editing Workflow! Learn How to Bring Out the Best Elements of Your Photography
How to Post-Process and Edit Your Photos to Perfection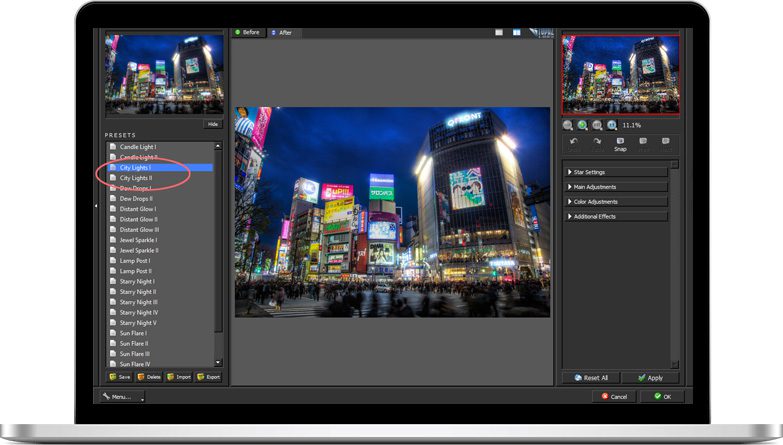 The world has grown beyond just Photoshop. Adobe is still the leader of the pack, with products like Lightroom and Bridge supplementing Photoshop in many photographers' arsenals (including my own); I also use Photomatix occasionally, which is an industry leader for HDR processing.
Photoshop's competitors (Corel's PaintShop Pro, Serif's PhotoPlus, Capture One Pro; there are many) are viable alternatives at sometimes as little as half the cost of Adobe's mainstays, and if you already have one of those, the general rules of what we're going to be discussing in this section will likely hold true, even if the tool names are different.
For our purposes, though, I'll be sticking with Lightroom, Photoshop, Bridge and Photomatix. You don't need to buy all these, but it's still good to know what the possibilities are. If you only invest in one program, I would recommend Lightroom.
The first few pages in this section will cover the quick and effective processing methods using the Lightroom presets provided with the book, then we will dive in deeper if you want to take your photos further. >>YES, I'm ready for the Photo Editing tutorials!
Take Your Photography to the Next Level with In-Depth Tutorials on Photography Tricks
Photography has traditionally been the realm of the real. It documents things. You'd see something, snap a photo of it, and record that moment for as long as your photo exists.
Then people realized that the reality you capture is only as true as the camera's perspective. Perspective could be toyed with. This changed the way people worked with depth, color and reality itself.
Today, capturing reality is half the battle. Playing with multiple exposures, HDR and perspective can create worlds beyond what we can see with our own eyes. Trick photography takes that pioneering kernel of photography—capturing reality—and takes it one step further.
Now, we capture the reality of our imaginations.
Light Painting with Long Exposures
Light painting is conceptually easy: leave a camera shutter open long enough, and moving lights will etch their streaks into the resulting image. We do this all the time with regular cityscape night photography, especially when cars drive through our shots, leaving behind stripes of red and yellow light. This section has tutorials and techniques to help you take your light painting to the next level such as with steel wool.
Extreme Panoramic Photography
Count the number of times you've been shooting a landscape or cityscape, taken as many steps back as possible, and given up, muttering to yourself, "My lens just isn't wide enough…" It happens to every photographer. There's never a wide enough lens to capture it all—the vastness of the world, the expansive horizon. The only way to grab it is with a panorama. This section includes tutorials on two types of panoramas: partial panoramas and 360-degree spherical panoramas.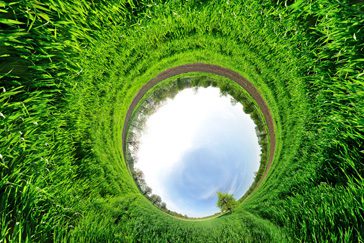 Infrared photography gives us the chance to show our audiences a view of the world that's literally impossible to see otherwise—infrared light is outside the spectrum of light our eyes can detect. It's entirely up to the film or image sensor to capture it. In this infrared light, cameras help us better understand the world we live in. This chapter will take you through the whole process of how to get started.
And Much Much More...Like How to Photograph Lightning!
Because lightning can not be predicted—the intensity, brightness and location are always different—it is extremely difficult to guess the proper exposure. The whole process of photographing lightning requires experience, luck and patience.
The goal here is to help you understand the full potential of photography, even the crazy stuff, so you can instinctively recognize any photographic opportunity that comes up.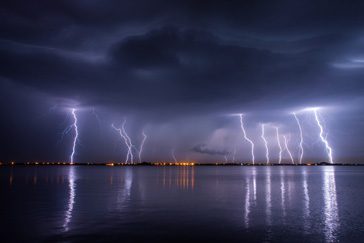 About the Author & Production Team: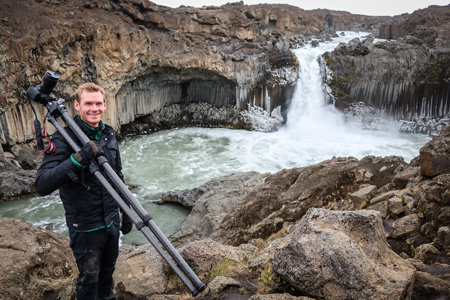 Author: Richard Schneider is the founder of one of the largest photography education blogs, PictureCorrect.com. He has been working as a photography educator for over 10 years. His personal photography has been licensed & sold to publishing companies, car companies, international ad agencies, major media outlets, art galleries, adventure brands and more.
Assistant Editor:
Michael Fraiman
Layout Designer:
Naomi Creek
Assistant Producer:
Jennifer Berube
Assistant Producer:
Rebecca Bennett
Read it Anywhere on Your Computer or Mobile Devices!
The eBook comes in PDF format that can be read on computers, phones and tablet computers (works great as a mobile reference out in the field). It's yours forever!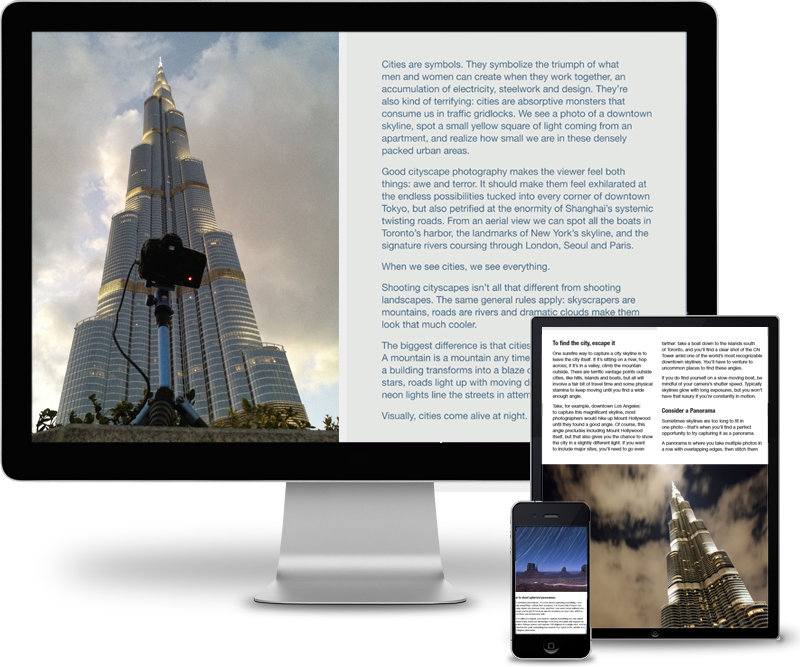 "If you aren't already a seasoned pro, this is honestly the number one book I would recommend to you." -Patrick Lavigne, Founder of LearnPhotoEditing"
90 Day Money Back Guarantee
So there's no risk in trying it!
If you don't love the eBook, then we don't want to accept your hard earned money. Upon purchase you will receive immediate access to download the eBook. If you don't think you've received the value of your investment within 90 days, please contact
support here
for a full refund.

"It's one of the best photography books I've ever read, and I've ready a heap of them in the last 20 years. Basically, if you had to distill a pro photographer's knowledge, experience and years of travel into one book - this is what the book would look like."
Pro Landscape Photographer Brent Mail
"More than just your average eBook, it's a very polished, meticulous, well illustrated, fun to read book that tops just about anything you can find in bookstores. If you are not already a seasoned pro, this is honestly the number one book I would recommend to you."
Patrick Lavigne, Founder of LearnPhotoEditing
Plus, a Bonus with Today's Sale... You'll Get Our Top 10 Lightroom Presets for Stunning 1-Click Photo Editing:
Not Just for Beginners, Here's What Professional Photographers Are Saying...
Serge Ramelli, Photoserge
"The Best Photography eBook! Amazing and incredibly comprehensive. It covers camera set-up, landscapes, cityscapes, photography tricks, post-processing, photo editing and more."
Phil Steele, SteeleTraining
"This book is so big that pretty much ANY shooting situation you find yourself in, there will be some useful tips for handling it...I'm loving it."

Brent Mail, Brent Mail Landscape Photography
"It's one of the best photography books I've ever read, and I've ready a heap of them in the last 20 years. Basically, if you had to distill a pro photographer's knowledge, experience and years of travel into one book - this is what the book would look like."

Mike Newton, Hacking Photography
"The Photography Tutorial eBook delivers - period! I've read a LOT of photography tutorials and ebooks out there and was blown away by the depth of this one. It dives deep into every important topic. The post-processing section is amazing!"

Join over
50,000

happy photographers who have learned or improved with this eBook.
"I could not put down the eBook and my camera beside... just wanted to go through all the techniques cover to cover and learn it all. The eBook is a perfect companion with my iPad and camera. Thanks again for a great product."
"Not only has this Book got a lot of great content, it's an ebook so you can have with you on your computer or devices wherever you go."
"Still reading the tutorial through for the first time, but love, love, love it so far. THANK YOU for all of dedicated, passionate and so worthwhile work that you put into this. Did I tell you that I am enjoying it? AMAZING!!"
"It's by far really the best photography book I've ever read, a helper in any situation from beginner to pro. I love the "Photography Tricks" section. And the few bonus lightroom presets are top. At least one of them works on any picture. Highly recommended from my side."
Frequently Asked Questions & Answers
How is the eBook delivered?
Via instant download! You'll be sent a download link for the eBook immediately after purchase so you can start reading today or whenever you feel like it.
Can I put the eBook on multiple devices?
Of course! As long as they are YOUR devices. Keep a copy on your computer for help with photo editing, a copy on your iPad for casual reading, and a copy on your smartphone for help with photo sessions.
What file type is the eBook?
The eBook comes in PDF format that can be read on computers, phones and tablet computers. PDF is the most popular file format for hardcopy documents and therefore can be read on the most devices. With thousands of happy customers we've had 0 compatibility issues so far.
Is payment information protected?
We use industry-standard SSL encryption site-wide to protect your credit card or Paypal details throughout our checkout process. Your information is never shared with anyone, we can't even see your credit card details ourselves. We take your online security very seriously.

© Copyright 2022 by PictureCorrect, Inc. |
Privacy